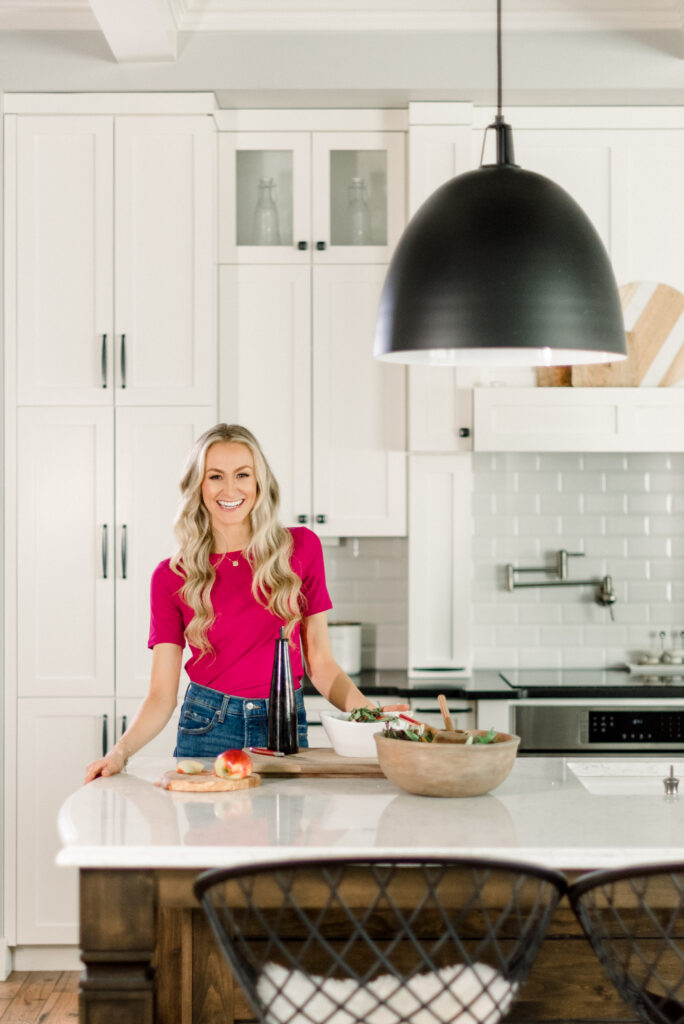 WELCOME TO Non-Diet-y Nutrition School
Gentle Meal Planning & Non-Diet-y Nutrition. For Mental and Physical Health!
A weight-neutral, gentle nutrition course that teaches you to eat in a way that feels good. Without going back to tracking, counting, measuring, or obsessing!
6 Weeks of Gentle Nutrition Education
NON-DIET-Y VIDEO LESSONS & PRIVATE PODCAST
3 additional workshops
Learn how to fuel a workout, balance blood sugar, and lower cholesterol
9 Exclusive Meal Plans & Recipes
SUPER FLEXIBLE SO YOU CAN PICK & CHOOSE WHAT WORKS
Permission To Have Your Cake—And Eat A Salad, Too!
Bravo, gorgeous! You broke your food rules and learned to trust your body. That means…
🍩 Donuts do not phase ya. 🍦 Ice cream is no longer inhaled! 🍞 And carbs? They've gone from foe to BEST friend.
But as AMAZING as allowing all foods and honoring taste hunger feels mentally…you might not be FEELING your best physically. (I know I didn't!)
Here's what I want you to know:
You 👏 are 👏 allowed 👏 to want more energy, balanced meals, and better nutrition. Even as an Intuitive Eater, nutrition DOES play a role! (Just not the LEAD role it played before.)
There's a next step in your journey. One final step. And, you might already be craving it 😉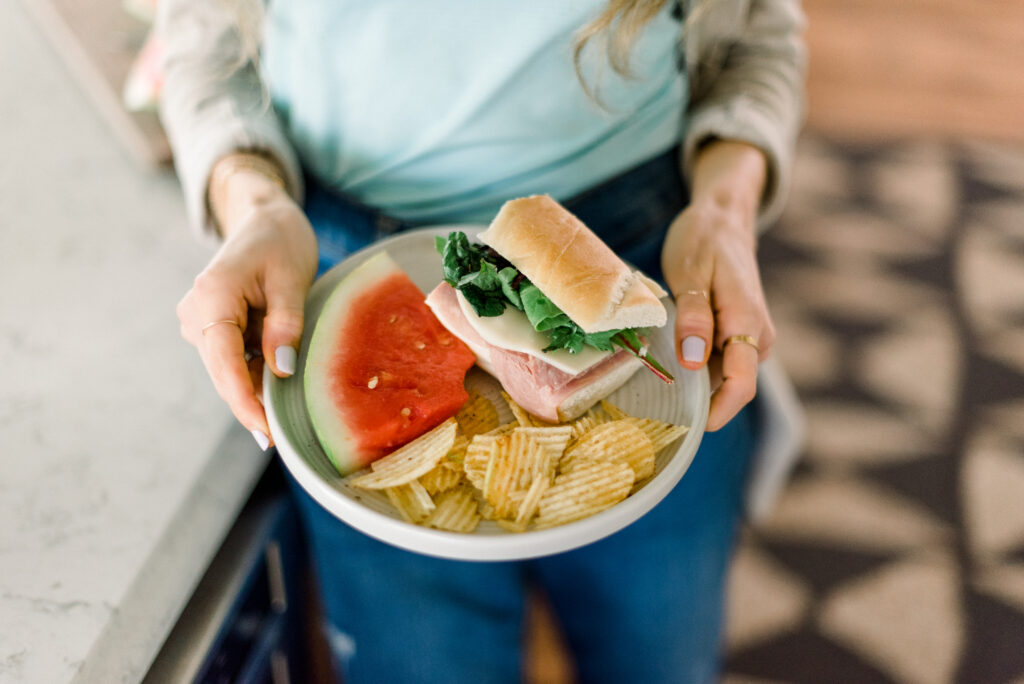 Introducing: Non-Diet-y Nutrition School
The 6-week course that teaches Intuitive Eaters to embrace gentle nutrition and plan out meals that feel good—without feeling diet-y, restricted, or obsessed!
A MATCH MADE IN FOOD FREEDOM HEAVEN
Intuitive Eating + Gentle Nutrition = BFFs
When you want to turn up the dial on your physical health without sacrificing your mental health…finding the right path can feel like walking in a diet culture minefield!
SO many options out there are heavily weight-focused, steeped in diet culture, or straight-up diets-in-disguise. And it's okay to not go near 'em with a 10-foot pole.
Nutrition Without The Diet? Yes Please!
In my 6-week, Nutrition Permission program, I'll teach you how to choose foods because they FEEL good to you. Not because some diet—or the version of Intuitive Eating you see on Instagram—tells you to.
My approach isn't prescriptive OR restrictive, and it's definitely NOT a one-size-fits-all plan. It's about turning up the volume on your intuition—and putting EVEN MORE distance between you and diet culture.
You're Allowed To Be Intuitive And Incorporate Nutrition Into Your Days
Intuitive eating is ALL about doing what feels right to you. So gentle nutrition? It abso-freaking-lutely fits in!
Non-Diet-y Nutrition School Is For You If…
You've been working on intuitive eating
You want to dive deeper into gentle nutrition
You're struggling or scared to implement gentle nutrition
You want to save time, money, and stress with meal planning and prep…but NOT get obsessive
It's NOT For You If…
You're at the beginning of your intuitive eating journey
You're still working on breaking food rules
You're just looking to follow a set meal plan
You're seeking a "quick fix" weight loss diet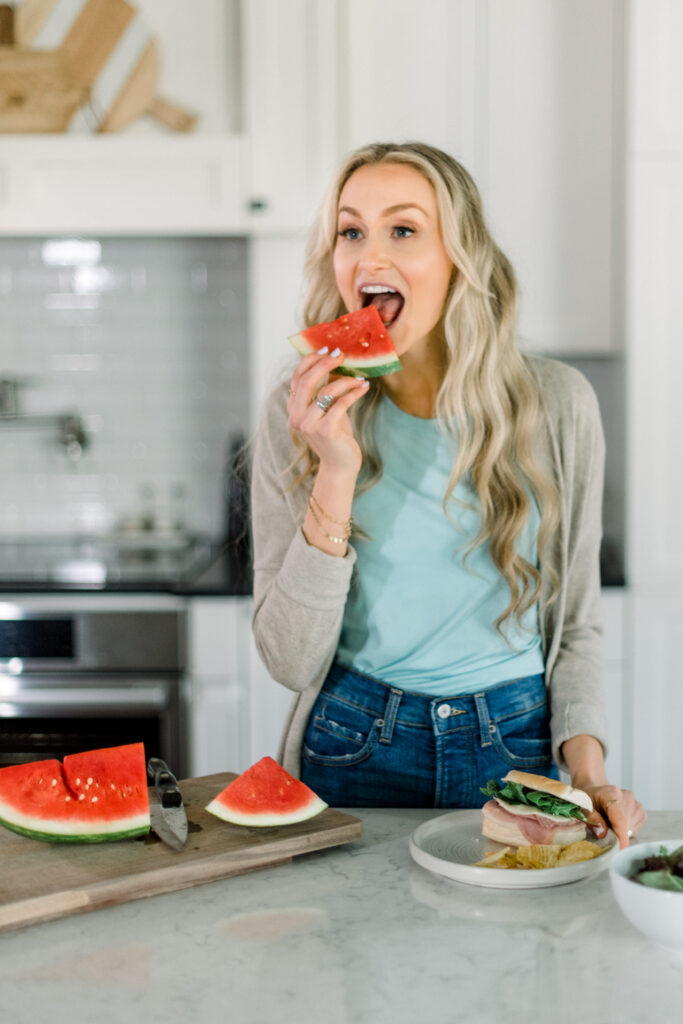 Stop Being Told What's Healthy & Learn To FEEL The Difference
Mastering gentle nutrition is the final step to becoming a full-on intuitive eater and eating in a way that feels good for life!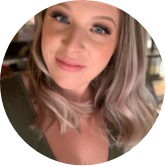 "My Biggest Win Was Learning How To Eat In A Way That Makes Me Feel Good In My Body!"
I loved the GNC Colleen breaks down all of the components of food like sodium, carbohydrates, protein, dairy, water and just explains why each of them is important but focuses on why they're important to your body.
My biggest win was learning how to eat in a way that makes me feel good in my body! In a way that I know that I'm just going to feel my best, have the most energy, and be able to support myself and my lifestyle. – BAILEE D.
You Won't Be Told What To Eat, You'll Learn How To Eat
BECAUSE GENTLE NUTRITION IS NOT A ONE-SIZE-FITS-ALL
Each week during this self-paced course we focus on ONE area of nutrition, and you get a video lesson, a sample meal plan, recipes, and a grocery list to help you experiment with working it into your life. 
You'll also get a weekly reflection sheet to fill out—this is where the intuitive part comes in!—so you can make your OWN decisions about what feels good and what's most important to you.
And all the plans are SUPER flexible—so you can follow to a T, take a few ideas for inspo, or ignore it and take your own approach!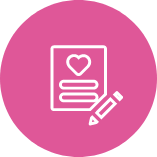 Week one
Nutrition basics & meal planning intro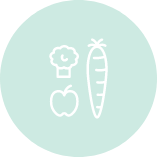 Week Two
Feeling the difference with fruits & veggies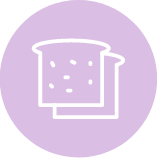 Week Three
The power of whole grains & fiber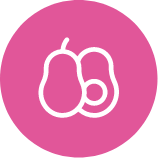 Week Four
All about the "f" words: fats & fish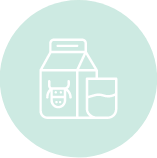 Week Five
Demystifying dairy & hydration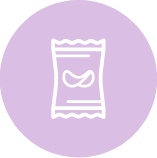 Week Six
The whole truth about processed foods vs. whole foods
Everything You Need To Master Non-Diet-y Nutrition
NON-DIET-Y NUTRITION SCHOOL MEMBERS GET ALLLL THIS & MORE
6 weeks of nutrition guidance via easy-to-digest—see what we did there?—video lessons. Also available via private podcast for on-the-go learning!
9 weeks of easy-to-execute, flexible, dietary-needs-friendly, gentle nutrition-focused meal plans you can use over and over.
TONS of 30-minute recipes and grocery lists for major time savings!
Lifetime access to ALL future updates!
limited time bonuses!
Get an extra $1,350 in free bonuses with a 1x payment!
1️⃣ Untangling Internalized Fat Phobia Workshop ($700 value) An absolute MUST to ensure nutrition doesn't feel diet-y and you can keep the focus on how you feel, not your weight.
2️⃣ All About Supplements Workshop ($600 value) Learn from a Registered Dietitian exactly what supplements you might want to consider taking and how to avoid wasting your money on the bad ones! This topic is a total fave!
3️⃣ Grocery Store Survival Guide ($50 value) This is a super great tool to help you make grocery trips and meal planning quick, painless, and more friendly to your wallet (hello extra $$$!)
YEP, YOU READ THAT RIGHT! 👆
Join Now For Lifetime Access To ALL Future Updates!
That's right, gorgeous! If you join Non-Diet-y Nutrition School right the heck now—at
THE lowest price I'll ever offer it for again—you'll lock in your own VIP access to ALL
future course updates.
That means you can refer back to the material for life…
Access updated content as soon as it's ready…
So whether you're ready for gentle nutrition TODAY, or you're still working on
intuitive eating but want to do this course in the future, this program is for you —
and now's the time to join!
6 weeks of nutrition guidance
9 weeks of easy-to-execute, flexible, dietary needs friendly gentle nutrition focused meal plans and grocery lists
TONS of 30-minute recipes and grocery lists for major time savings
Lifetime access to ALL future updates!
Includes all of the same benefits but at a $41 savings!
ADDITIONAL $1,350 IN FREE BONUSES!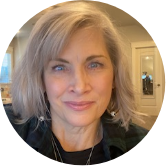 "I Love That Colleen Takes out All The Morality From Food Choices!"
I love Colleen's Gentle Nutrition Course! I'm so glad that I purchased it! I love that Colleen takes out all of the mortality associated with food choices.
She just analyzes it in a very understandable way. In the past when I've met with licensed nutritionists, or read books, or gone to classes I came away feeling guilty and like I'll never be able to do this because I can never eat cake again or I could never drink diet Pepsi again or whatever the thing is that I love. But with Colleen's approach, it's all just food guys, that's all that it is! -DENISE W.
Daily DMs & FAQs
GOT A QUESTION? I GOT ANSWERS!
Q: When does the course start?
You get instant access the moment you enroll! 
This is a self-paced course so you can go through it when it's the best time for you!
Q: When will this program be offered again?
Enrollment for this program will re-open in the fall of 2023 however it will be at a higher price and may not have the >$1,000 of bonuses that it does not.
Q: Is it family friendly?
All meal plans are totally customizable! I'm not a fan of super obscure ingredients and I always think about budget when picking recipes. If you have little ones who aren't adventurous eaters these recipes can absolutely work as well. For example, if it's Thai pasta night you can reserve some noodles to serve to the kiddos with the meat and veggies- sans sauce!
Q: How many servings do the recipe make?
All breakfast, lunch and snack recipes are designed to serve 1 however you can scale them up easily by multiplying! Dinner recipes serve 4 but, again, you can divide them to reduce or multiply them to increase!
Q: I have dietary needs. Will this work for me?
Yes! Gentle nutrition is completely customizable and in this program you'll learn how to apply it to YOUR unique life. All recipes will have modifications for dietary needs such as plant-based diets and allergies. If you need anything else that's what's so great about being a founding member… you can just ASK for it! You truly get to ensure you get EXACTLY what you need!
I want to make sure you're suuuuper happy with the program! So if after 7 days from the time you purchase you realize this isn't your jam then no worries. You'll get a full refund!
Q: What if I need help getting started with intuitive eating?
If you're new to intuitive eating I'd recommend joining The SociEATy intuitive eating community where you can get a solid foundation before diving into gentle nutrition!
Q: What if my question wasn't asked?
Shoot me an email at [email protected] let's get it answered!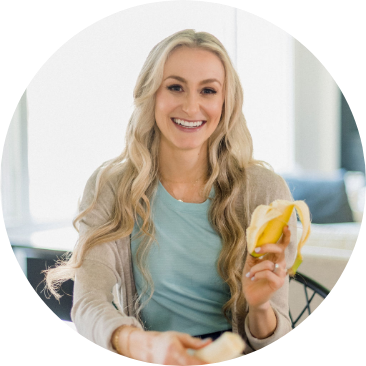 Diet Culture Doesn't Own Nutrition, You Guys!
They don't own green smoothies, salads, or veggies, either.
💥If ditching diets has left you in a state of full-blown REBELLION…
💥If you're reaching for fries NOT because you really want them—a perfectly good reason to have fries!—but because you feel like choosing a salad means choosing diet culture…
💥Or if you're still SHOVING veggies into places you don't want 'em because you feel like you're "supposed to"…
Then girlie, you are READY for Non-Diet-y Nutrition School!
Join Now & Get Lifetime Access for Just $297
This is a unique, limited-time offer you do NOT want to miss!
When you join now, you'll ALWAYS have access to the most up-to-date version of
our course.
Can't stick out the full 6 weeks right now? Not ready to focus on nutrition and meal
prep yet? No worries! You can still join now to lock in the LOWEST PRICE I'll ever offer
again, and hop on into the materials when you're ready! You have lifetime access and
can start or press pause at any time.
6 weeks of nutrition guidance
9 weeks of easy-to-execute, flexible, dietary needs friendly gentle nutrition focused meal plans and grocery lists
TONS of 30-minute recipes and grocery lists for major time savings
Lifetime access to ALL future updates!
Includes all of the same benefits but at a $41 savings!
ADDITIONAL $1,350 IN FREE BONUSES!
Gals Like You Are Loving Gentle Nutrition!
Guilt Isn't An Ingredient. So Don't Add It!
In my 6-week Non-Diet-y Nutrition School program, you'll learn to take the morality OUT of food and make decisions that support your physical and mental health.
So you can eat in a way that FEELS good—body, mind, and soul—for life!