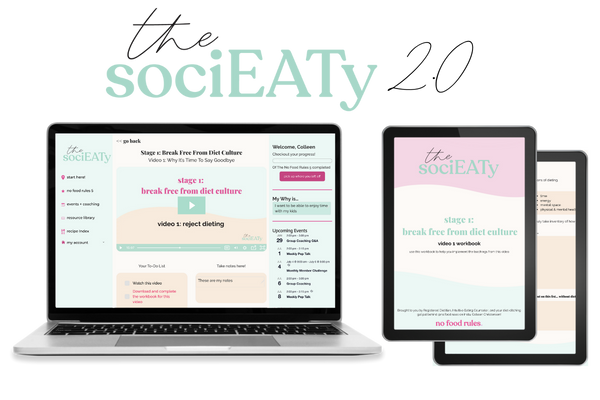 You know that my goal with The SociEATy is to give you eVeRyThInG that you need to learn how to become an intuitive eater and find food freedom, right? Well, in order to stick to that promise The SociEATy is getting a full update!
On July 6th you'll be getting access to all new and updated content including
✅ new videos (including new video players which will allow you to pick back up where you left off watching- no starting the video over!)
✅ new workbooks with even more resources and exercises to help you put all of this stuff into practice
✅ a private podcast channel just for the new stage videos (no more scrolling allllll the way back to the beginning on the app!)
✅ a place for you to take notes right inside of the membership site
✅ a new resource library (think along the lines of a members only blog where I answer literally ANY question you have. This will allow me to give more in depth answers VS a Facebook comment!)
Goodness me, I'm SO excited to share this with you!!
You will still have access to the old dashboard for the month of July so if you want to finish watching those videos you can before to watch the new ones (but you totally don't have to- the new ones contain everything and more!)
Q: What do I need to do?
A: Nothing! The membership site will switch over on it's own. There is nothing you need to do to get access to it. Note: you will still have access to the old pages until August, if you wish to visit them (nothing is totally going away!)
Q: Do I need to watch the videos over again?
A: You will need to start the videos over from the "start here" since the new videos to unlock as you go (example: you can't skip ahead to stage 3 if that's where you left off). While this might seem annoying, I know, it's going to be SUPER helpful for you. The new videos are even more thorough and have more info in them so I know you'll learn something new. And? If you're already super grounded all the way to stage 3 you'll buzz right through them! (note: you'll still have access to the old videos if you want to finish watching any of them, but I'd just recommend starting with the new ones!)